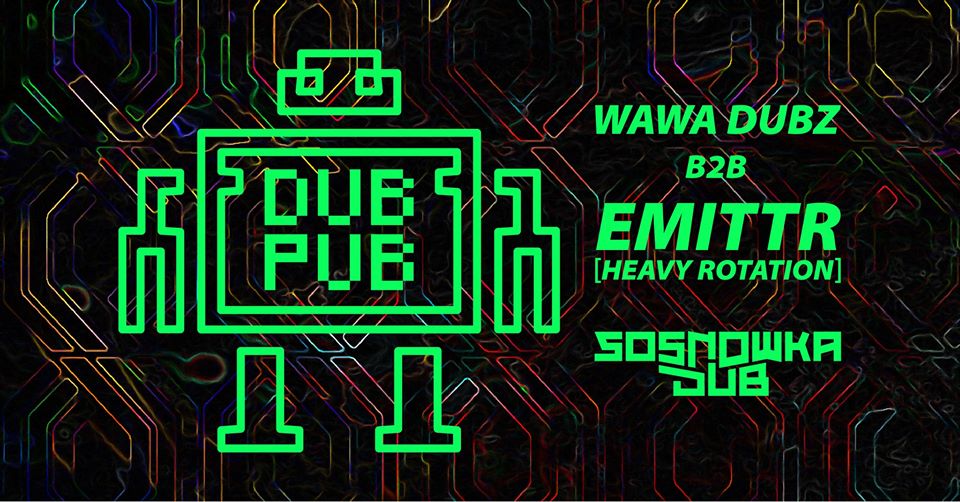 DUB PUB pres: Emitter (Heavy Rotation)
Line-Up
★ Sosnowka Dub
★ WAWA DUBZ b2b Emitter
Goodies
☆ heavy bass
☆ warm vegan food & cool drinks
☆ foosball & PS2 games
Admission?
★ donation box (for musicians and political efforts)
¯¯¯¯¯¯¯¯¯¯¯¯¯¯¯¯¯¯¯¯¯¯¯¯¯¯¯¯¯¯¯¯¯¯¯¯¯¯¯¯¯¯¯¯¯¯¯¯¯¯¯
For the last time in 2019 we invite u to our DUB PUB #12!
To bridge the time between the holidays and new years eve we invited a new guest: Emitter!
Emitter:
U can expect oldschool dubstep sounds and even some grime goodies. If u have listened to dubstep in Düsseldorf u might know him already. There he is resident dj at the Royal Beat Club and Dubstep@Cube. He is also part of the Heavy Rotation Familia, who are going live every sunday to deliver some heavy tunes directly to your living room.
Be advised: this event is early but loud! So come right in and fulljoy medical vibrations for body and soul. Hearing protection advised and available at the bar.
Sending out nuff love to each and everyone – all tribes welcome
¯¯¯¯¯¯¯¯¯¯¯¯¯¯¯¯¯¯¯¯¯¯¯¯¯¯¯¯¯¯¯¯¯¯¯¯¯¯¯¯¯¯¯¯¯¯¯¯¯¯¯
– Websites –
☆ https://sosnowkadub.de
☆ https://az-aachen.de/
¯¯¯¯¯¯¯¯¯¯¯¯¯¯¯¯¯¯¯¯¯¯¯¯¯¯¯¯¯¯¯¯¯¯¯¯¯¯¯¯¯¯¯¯¯¯¯¯¯¯¯
No hate – no nazis – no sexism – no homophobia – no racism – no discrimination
1 ♥
___________________________________________________
Scheduled
Events Kneipe