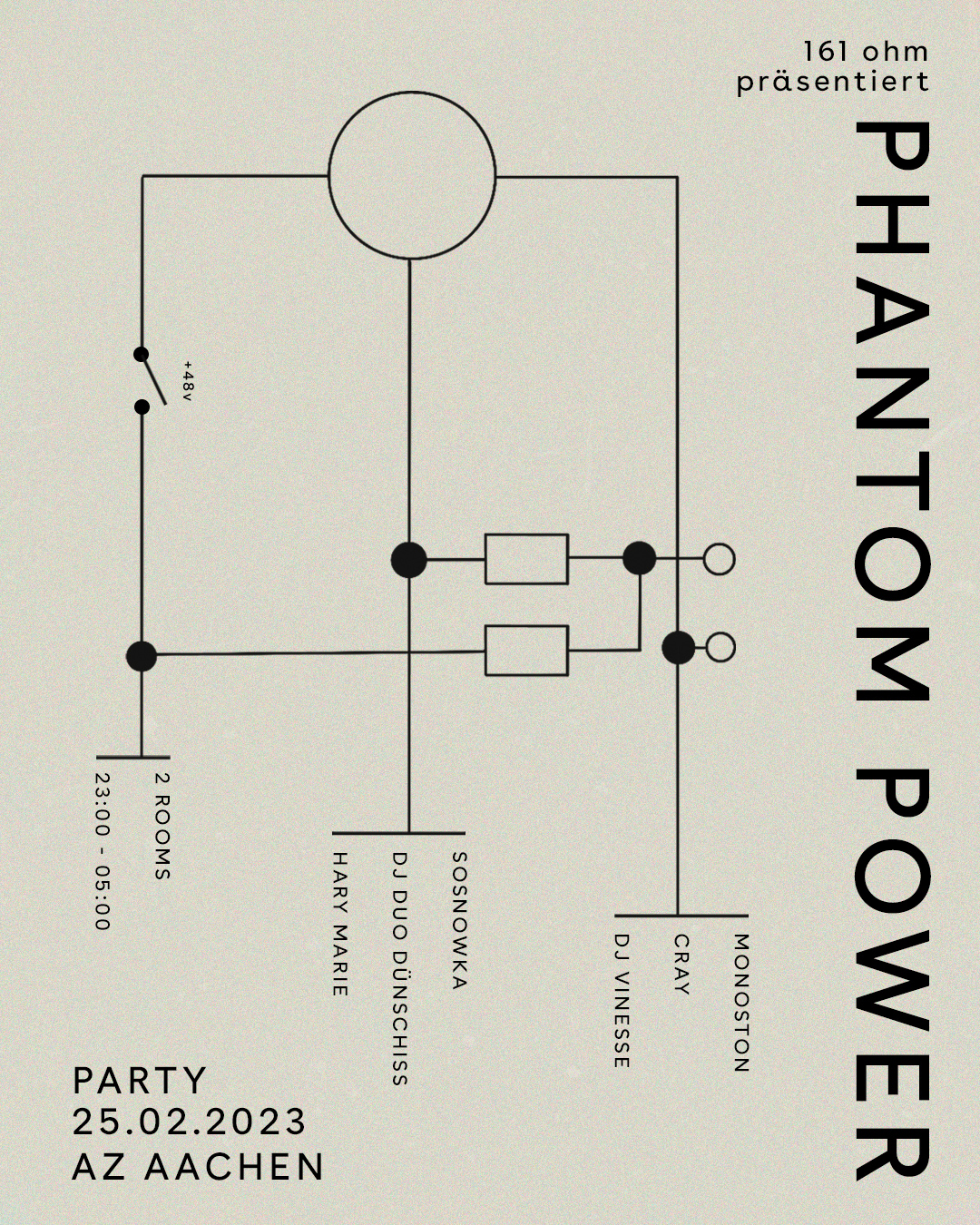 The technology collective 161 Ohm invites you to their first party.
Founded around two years ago we made it our own purpose to support demonstrations and political events with sound and light. We supported the Kuloko festival in Lützerath, several big FFF demonstrations, as well as feminist demonstrations, the Krachparade and the queerfestival at the monastery, to name a few examples.
We want our party to be as diverse and colourful as the events we have supported.
Therefore we will create a second floor in the AZ Aachen and will deliver a huge musical diversity with Dub, Progressive House, different types of techno, a little bit hardstyle and even Hyperpop.
So everyone will find something that they like.
We invited 6 artists from Aachen, Cologne and Berlin to make you dance throughout the six hours until five in the morning.
Main floor
23:00-01:00: DJ Vinesse (spontan eingesprungen für glitterbaexoxo): "Me is born and raised in Aachen ciddy meine tunes Sind genreübergreifend von uptempo funk über Brazilian jungle bis hin zu hartem in die fresse Techno inspiriert und seit jeher hab ich ein absoluten Fabel für hip Hop Elektro remixes – i like to take my audience on an adventure"
1:00-3:00: Cray: Fast beats like schranz, hi- tech and a lot of good energy from Aachen.
3:00-5:00: Monoston: Around a year ago he started to DJ again and played for example at the "Krachparade", several times at the location "Langerturm" and at the Hotel Europa. His sound is based on deep Techno with some acid bass, energy and melodies but not too fast.
Second Floor
23:00-2:00: Sosnowka Dub: Sosnowka Dub is a collective from Aachen who want to share their love for offbeat music, bass and echo. Their selection ranges from the roots of dub in Jamaica to the sprouts of UK dub and steppa and includes psychedelic experiments with jazz, psy and punk rock or electronic music.
2:00-3:30: DJ Duo Dünnschiss: A newcomer duo from Aachen. They don't care about genres as long as it hits with energy. Be prepared for a driving and entertaining set with hard Techno, Hardstyle, Frenchcore and much more.
3:30-5:00: Hary Marie: Another newcomer from Aachen. She is happy to play her second gig with us and let the audience vibe to some kind of techno, funky beats and drum patterns.
Tell your friends and lets dance together.
Design by Amber Thoennißen
***************
We don't give a rat's ass about what society tells us we need to be, but what we do give a damn about is each other!
Be respectful, be aware of yourself, accept people's personal boundaries and take it seriously when someone tells you that you are making them feel uncomfortable, that they want to be left alone etc.
Reflect on your behavior, privilege, and socialisation so that we can all have a good time.
The AZ only has a limited capacity, so show up early.
*****
There will be a Care Point / Awareness team, recognizable by their red heart lights, present at the party and whom you can talk to if someone isn't respecting your boundaries or if you need support. The Autonomes Zentrum will also post an info text into the event about the Care Point, but let's also remember to take care of our friends, our comrades, our community, and ourselves!
*****
No Transphobia. No Biphobia. No Racism. No Sexism. No Bodyshaming. No Femmeshaming.
(We know that no space or person is completely free from these things.
Don't hesitate to talk to the care point or az team)
No Nazis
*****
If you have the possibility to, please test yourself for COVID beforehand and stay home and take care of yourself if you are sick.