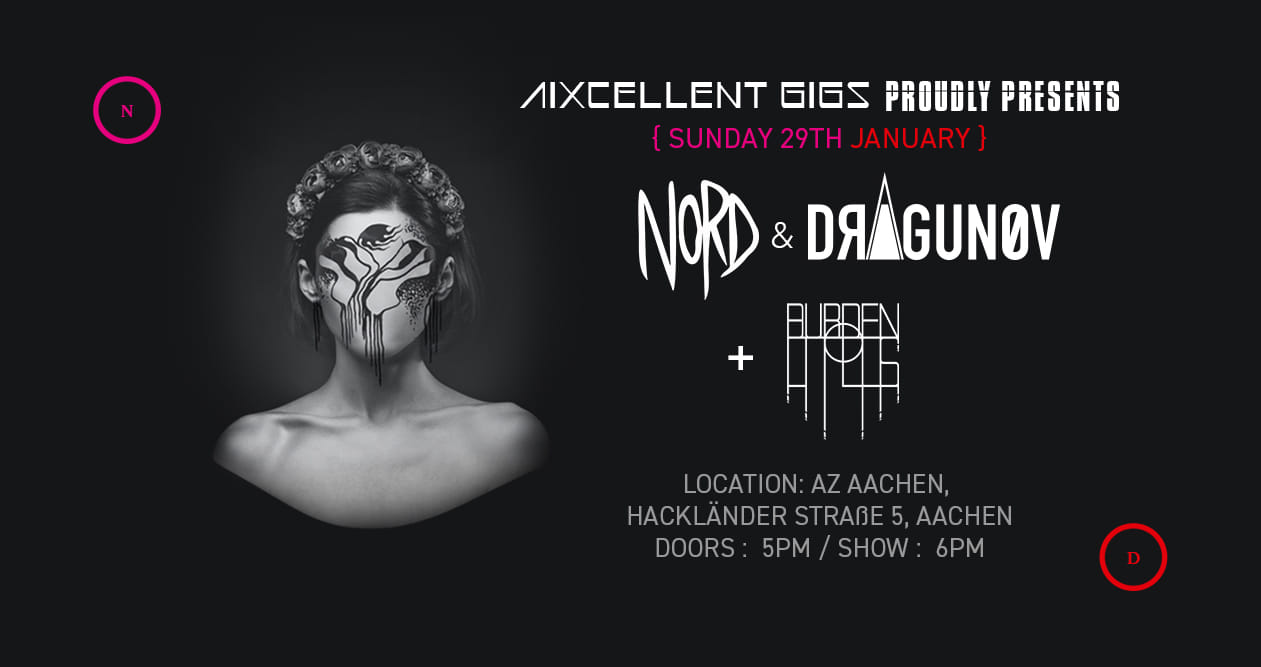 𝑨𝑰𝑿𝒄𝒆𝒍𝒍𝒆𝒏𝒕 𝑮𝒊𝒈𝒔 presents :
𝐃𝐑𝐀𝐆𝐔𝐍𝐎𝐕 & 𝐍𝐎𝐑𝐃 at AZ
𝐒𝐔𝐍𝐃𝐀𝐘 𝟐𝟗𝐭𝐡 𝐉𝐀𝐍𝐔𝐀𝐑𝐘
The European tour from 𝐃𝐑𝐀𝐆𝐔𝐍𝐎𝐕 & 𝐍𝐎𝐑𝐃 is coming to Aachen to present to you their new co-written song "𝐃𝐔𝐍𝐄𝐒 𝐎𝐅 𝐅𝐄𝐀𝐑".
● 𝐃𝐑𝐀𝐆𝐔𝐍𝐎𝐕 (France) :
*Dragunov is a guitar and drums duo creating a soviet, dark, infectious, apocalyptic and
instrumental post metal right on the edge of doom. They have been playing more than 60 shows all around France and Europe since 2016. The band have released one EP and 2 albums, back in 2015, 2017 and 2020. They have been opening for bands such as Brutus, Psychonaut, UFOMAMMUT and This Will Destroy You.
In January 2023, they will release a new song written and recorded with the band NORD.
● 𝐍𝐎𝐑𝐃 (France) :
*Nord is a Post-Rock/Metal band from Lille and Paris since 2012. After their second album "The Only Way To Reach The Surface" (Klonosphere/Season Of Mist), more technical and violent, NORD will release a special collaboration with French Rock/Metal bands as Dragunov or Maudits in 2023. The first one will be released in January 2023 just before the "DraguNord Tour" with Dragunov in January.
Scheduled
Konzerte