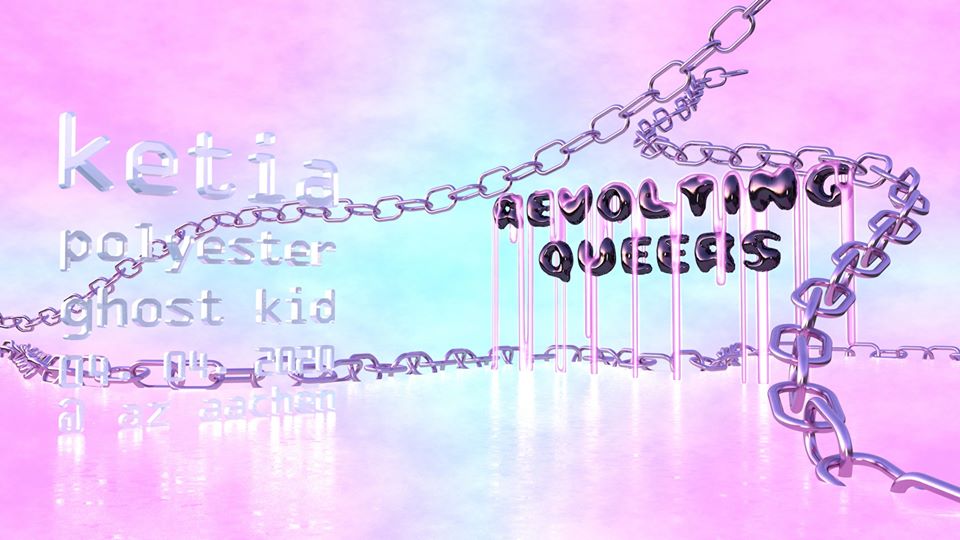 Bitte nehmt unser vorläufiges Statement zur Absage aller Veranstaltungen bis 21.4. zur Kenntnis:
? Hello lovely queer* people and friends!
The time has finally come!
We are going into the fourth round ?
Together we want to celebrate a party where we can unfold ourselves free from binary gender norms, heteronormativity, and other societal constraints, while being respectful of another. We want to show ourselves how we are: dance how we want, present ourselves how we want, kiss whoever we want (of course always with consent from the other person/people!)…
This time around we will be partying with:
ketia
Polyester
ghost kid
ketia has a crystal clear mission on bringing non-seriousness to the club as a gateway to bliss on raving.
At 23, she is already a confident selector of high-energy sets and has birthed the kit ket collective: a subversive crossover between a rave and a house party in an inconsistent sonic narrative; focused on including women, trans and non binary bebes alongside musical chaos, which was featured on Boiler Room Hard Dance last year.
She feels very grounded in the underground happenings of her home town Lisbon, Portugal, but is now based in Berlin, from where you'll find her jumping around Europe spreading bitch vibes onto any dance floor she meets.
We're catching her just after she finished an extensive Australian tour where she played the most special, intimate queer events in-between Brisbane, Sydney and Melbourne.
Her sonic soundscape consists of pop edits mixed with as many other genres as possible, finding stable ground in hard trance and scouse house and promising bangers only.
soundcloud.com/ketia
instagram.com/ketiamina
Polyester is a queer electro pop disco based at your doorstep in Aachen. Polyester has been hosting and playing alternative parties for wild angry queers since 2012. Check out their facebook page which is always up to date on the latest treasures and filled with hits.
We're super happy that they will be joining us for this round of Revolting Queers!
ghost kid, your local queer kid and feminist killjoy from Aachen is Revolting Queers resident and host. Apart from this project, they recently helped create the Hysteria – feminist techno party. ghost kid is looking forward to being part of creating more space for queer feminist events and is excited for this next round of our Revolting Queers journey.
soundcloud.com/xoxghostkid
The timetable will be announced in the event soon.
Show up, invite & bring your friends!
We're looking forward to you ?
*****
We don't give a rat's ass about how the patriarchy tells us we need to be, but what we do give a damn about is each other! ?
Be respectful with each other, accept people's personal boundaries and take it seriously when someone tells you that you are making them feel uncomfortable, that they feel harassed, or want to be left alone etc. Reflect your behavior, privilege, and socialisation so that we can all have a good time.
There will be a Care Point team, recognizable by their red, blinking hearts, present at the party who you can talk to if someone isn't respecting your boundaries or if you need support (the Autonomes Zentrum will also post an info text into the event about this), but let's alsot remember to take care of each other!
*****
No Racism. No Sexism. No Transphobia. No Biphobia. No Homophobia. No Bodyshaming. No Femmeshaming. No Nazis. No Cops.
☄☄☄
Scheduled
Events >Partys