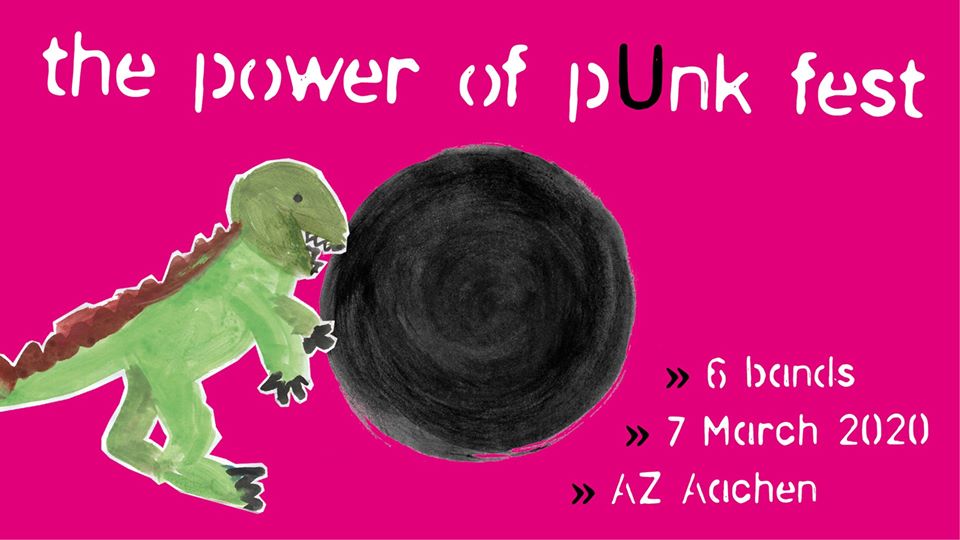 The Power of Punk Fest #1
with:
#####
FINISTERRE (köln/hannover/leipzig)
dark and powerful hcpunk that always puts forward an opinion on urgent social and political items. this band is a big "fuck you" to the patriarchal society.
facebook > Finisterre
bandcamp > finisterre.bandcamp.com
#####
INFANT SANCHOS (berlin)
hard, simple and raw electronic-punk. massive basses, easy drum-computer lines and a dry synthesizer will be served by the duo from Berlin-Neukölln. Check out their self titled debut album that was released on Contraszt! rec. recently and get your copy at the show.
bandcamp > infantsanchos.bandcamp.com
#####
PLAGUE THIRTEEN (ieper/belgium)
… plays dark and massively downtuned epic crust. You will love their d-beat driven style. Almost ten years ago some of the members played an intense gig with LINK at the AZ Aachen.
facebook > Plague Thirteen
bandcamp > plaguethirteen.bandcamp.com
#####
OUST (amsterdam/nijmegen)
… plays fast and raw punk that is driven by a powerful singer. They have just released a fantastic 6-track album that you can listen to on bandcamp or that you can hopefully purchase at their gig.
facebook > OUST
bandcamp > oustpunx.bandcamp.com
#####
LAUDARE (leipzig)
I just read someone describing them as a unique mixture of screamo and black metal. I'm not that into the black metal thing, so I'd say it sounds like dark and screamy hardcorepunk that is combined with complex postrock elements and uses surprisingly poetic lyrics.
facebook > Laudare
bandcamp > laudare.bandcamp.com
#####
ALTERI (köln)
… plays fast and dark d-beat hardcorepunk. This Crust-metal grenade will kick your feet, it is time to dance. They will present their second full length that will be published in 2020. Meanwhile, check out their incredible entertaining debut on bandcamp.
facebook > Alteri
bandcamp > alteri.bandcamp.com
doors 19h – starts 20h
Stay tuned for more info.
Scheduled
Events Konzerte