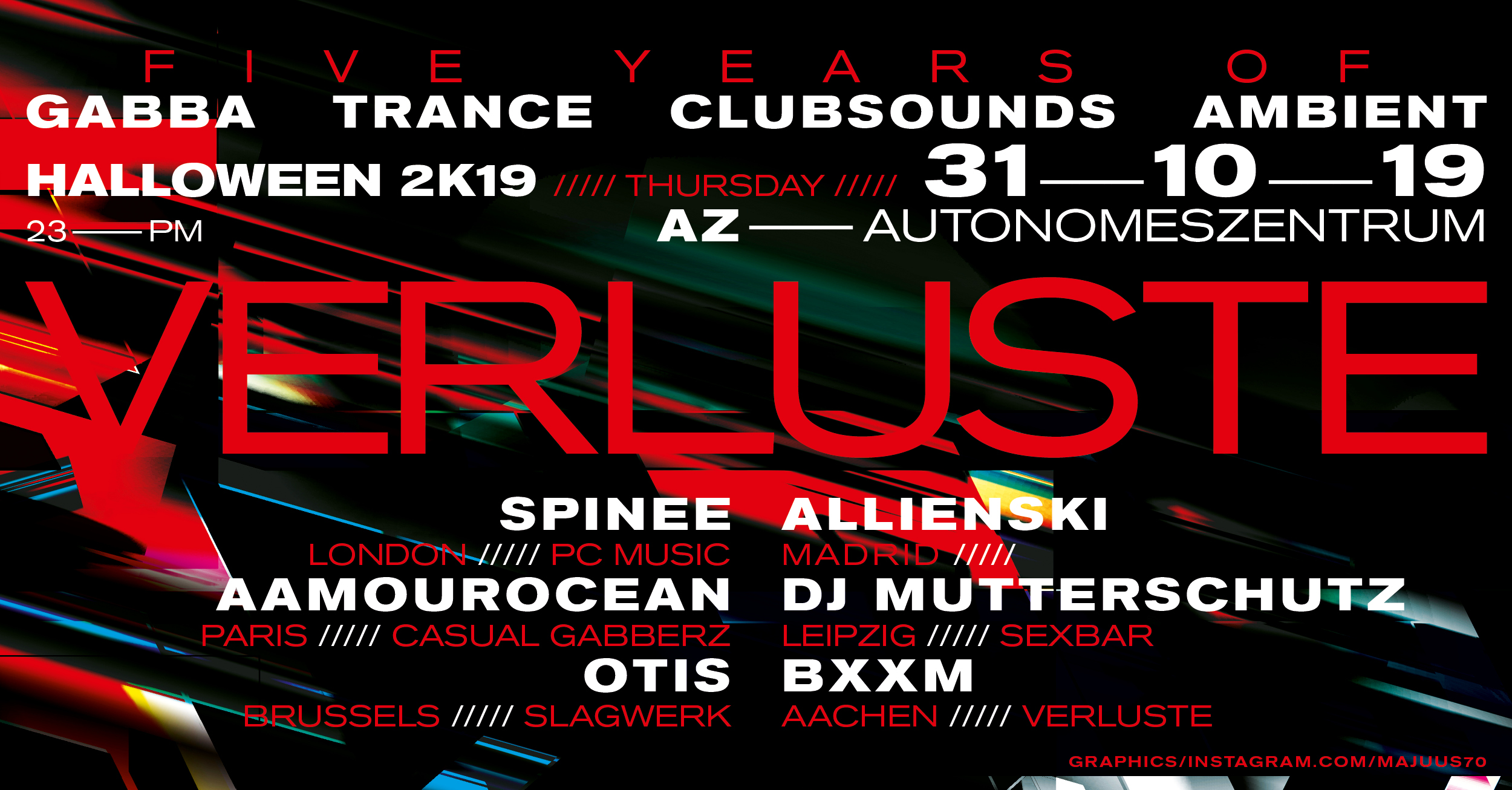 ✧ GABBA ✧ TRANCE ✧ CLUB SOUNDS ✧ AMBIENT ✧
Verluste is back. Five years are behind us now. We started with Crim3s on Halloween 2014. It went on from Trap and Rap (Tommy Genesis, Hayiti), over Techno (Schwefelgelb), Trance and Gabba (HDMirror, Paul seul) to Industrial Club and Drone (Bulma, Wreck and Reference), just to name a few.
Occasionally in collaborations with other befriended labels we have always tried to bring together different acts and genres in order to create new musical-aesthetic experiences.
For our fifth birthday we are putting together a very special mixture of musical patterns and grafic artwork to create a genuinely own aesthetically coordinate system – and remain trve to us precisely because of change.
This time your digital experiences will be transformed into analogue reality again by the following acts:
✧ SPINEE (London, Great Britain) / PC Music ✧
Acid Gabba & Rave
https://soundcloud.com/spinee777
https://soundcloud.com/pcmus
✧ AAMOUROCEAN (Paris, France) / Casual Gabberz Rec ✧
Trance & Gabba
https://soundcloud.com/aamourocean
https://soundcloud.com/casualgabberz
✧ OTIS (Brussels, Belgium) / Slagwerk ✧
Experiemental Ambient
https://soundcloud.com/oti_s
https://soundcloud.com/slagwerk
✧ ALLIENSKI (Madrid, Spain) ✧
Industrial Deep Reggaeton & Contemporary Perreo Paths
https://soundcloud.com/allienski
✧ VERLUSTE CREW: bXXm (Aachen, Germany) ✧
https://soundcloud.com/bxxm_1
✧ Dj Mutterschutz (Leipzig, Germany) / Sexbar ✧
✧ Artwork by Marius Schillak
instagram.com/majuus70
majuus.com
NO E-SCOOTER ALLOWED
POWERBANKS WELCOME
DRESS UP AND SHAKE YOUR BODY!
ALL STYLES ✧ ALL GENDERS
NO NAZIS ✧ NO DOGS
Facebook-Event: https://www.facebook.com/events/2428446183890118/