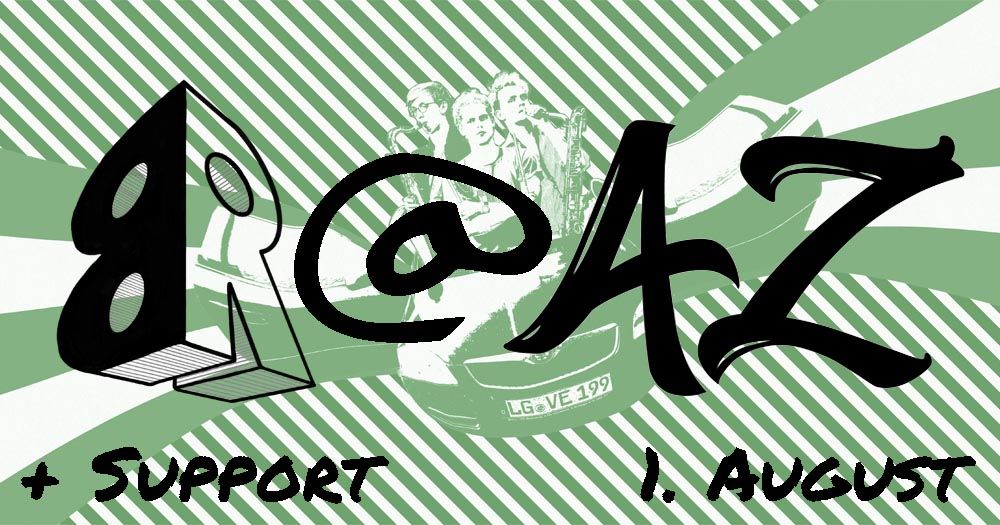 Wer hat noch nicht, wer will nochmal?
[english version below]
Das letzte mal waren Brass Riot am 21.6. in Aachen. Doch leider waren zu der Zeit viele Menschis mit irgendeinem Unsinn wie Gesa-Support oder der Besetzung von Brücken, Häusern, Schienen oder Baggern beschäftigt. Am 1.8. geben Brass Riot diesen verlorenen Seelen großzügigerweise eine zweite Chance.
…Ihr dürft aber nur rein, wenn ihr versprecht, so etwas nie wieder zu tun.
——————————————————————————————
The last time Brass Riot came to Aachen was on 21.6. At that time lots of people were regrettably preoccupied with silly activities such as Gesa-Support or occupying bridges, houses, railroads and excavators. On the 1st of August Brass Riot is generously giving those lost souls a second chance.
…However, you can only enter if you promise never to do something like that again.
Brass Riot (Berlin)
Brass-House / Acid-Jazz
https://soundcloud.com/brassriot
Support: To be announced
AZ Aachen: Hackländerstr. 5
Doors: 19:30
[english version below]
Wir legen Wert auf ein angenehmes Miteinander, bei dem es möglich ist, frei von Diskriminierung, Mackergehabe, übergriffigem Verhalten und sexistischen Anmachen feiern zu können. Wir haben keine Lust auf Menschen, die kein "Nein" akzeptieren können, oder sich so verhalten, dass sich andere Gäste bedrängt fühlen. Achte auf dich und andere, sodass alle eine schöne Nacht haben können. Wenn du dich einmal unwohl fühlen solltest, sprich einfach eine*n von uns an.
——————————————————————————————
We value a pleasant atmosphere free of any kind of discrimination, harassment or sexist and macho behavior. We don't want to party with people that make people feel uncomfortable with their behavior or won't accept another person's "no". Pay attention to yourself and others, so everyone can have a great night. If you feel uncomfortable feel free to approach anyone of us.