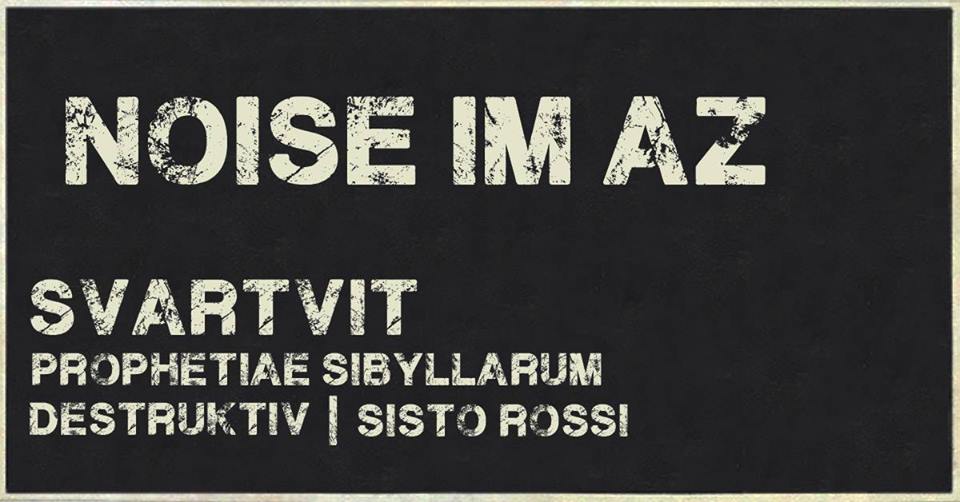 NOISE IM AZ
Svartvit | Prophetiae Sibyllarum | Destruktiv | Sisto Rossi
Doors: 8pm
Svartvit
http://facebook.com/svartvitnoise
http://svartvit.bandcamp.com
'The Hague-based sound experimentation that breaches the gap between harsh industrial noise music and performance art. Over the course of 10+ years Svartvit has been exploring the physicality of sound often using his own bodily functions as sound-sources. High volume, extreme frequencies, feedback, endurance & degradation are utilised to create a tension in which sound will not only be heard but also felt, experienced. This results in highly personal performances that remind one of the cathartic & confrontative nature of Viennese Aktionism and early industrial groups like Club Moral with an immediacy and rage that is often found in hardcore-punk.
Kevin Jansen has been active in various other projects (Erstwhile, Qualm, Clamor etc.) runs a record label (the тide øf тhe εnd) and has played over 250 shows in 25 different countries. Releases have appeared on labels like TESCO and Instruments of Discipline.'
Prophetiae Sibyllarum
https://www.instagram.com/thabruja/
https://soundcloud.com/bettina-koyotl
Prophetiae Sibyllarum is the moniker of Albertina Sybila, born in Guatemala in one of the most bloody years of the civil war in her country.
Even so, her parents protected her and her siblings the best way they could, trying to give her a ¨normal¨childhood.
She started her studies at the National Conservatoire of Music, where she played viola, as what she calls, 'her first love'. There she started to experiment with her viola, playing it in non classic conventional. At some point she dropped out of the conservatoire, tired of the strict way of classical teaching there. After this, she started playing drums in an anarcho punk band.
She emigrated to Nederlands quite some years ago and this cultural shock produced a turmoil of emotions on her, creating a hybrid in between worlds.
Working with a theremin and a drone box , she studies how to make sonic sigils to catalyze the pain, rage,frustration, anxiety, misanthropy and all the pandemonium of emotions that are engraved inside of her. After secluding herself from social contact she describe this (creative/destructive) process as Rituals of Suffering, as a necessity of grief liberators.
Chaos Magic is one of the vertebrae of the column of her project.
Intrinsically political always a dissident .
Destruktiv
https://www.facebook.com/Destruktiv-349756469130891/
Sisto Rossi
www.youtube.com/watch?v=DJszE5CTxVY