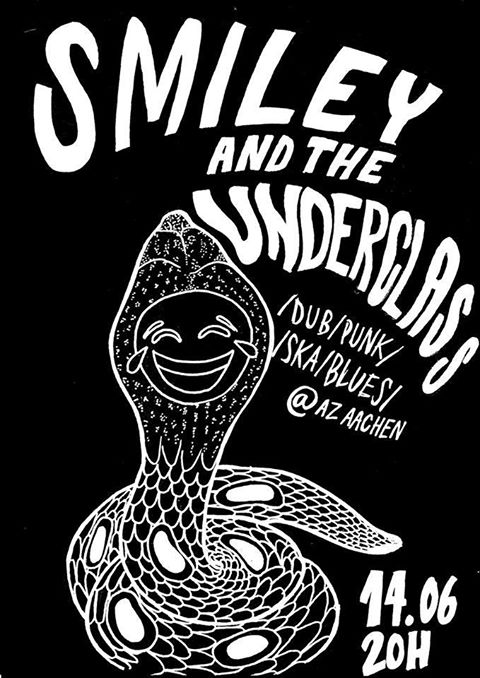 Mood Music Aachen präsentiert:
Super last minute show mit der Punk-Dub Crew Smiley & The Underclass aus London (UK).
Mittwoch, 14. Juni 2017 – Autonomes Zentrum Aachen
Doors: 20.00h
Damage: 5-8€
++++++++++++++++++++++++++++++++++++++
Smiley & The Underclass
Wicked and wild Dub Punk outta London
http://www.smileyandtheunderclass.com/
https://www.facebook.com/smileyandtheunderclass/
https://www.youtube.com/watch?v=INR3JuWzTaI
Formed in 2014 in the infamous melting pot of West London's Ladbroke Grove, Smiley
& The Underclass are a rebel shout from a world on fire, a musical call-to-arms
invoking a passion and honesty rarely seen in these times of cardboard cut-out poppollution.
Infused with the bass- heavy vibrations of Roots and Dub music, and the
deadly concoction of lyrics and guitars reminiscent of The Clash and Bob Dylan, Smiley
sings the revolution blues with a rhythm guaranteed to move ideas and dancehalls
across the UK. The Underclass are Punky Reggae monsters, with catchy tunes and
skanks sliced together with mind-altering garage guitars.
++++++++++++++++++++++++++++++++++++++
Mood Music Aachen
events with an antifascist attitude
http://moodmusicaachen.blogsport.de/
http://twitter.com/MoodMusicAachen
http://facebook.com/MoodMusicAachen
moodmusicaachen@gmail.com
NO SEXISM! NO RACISM! NO HOMOPHOBIA!
REFUGEES WELCOME!
Facebook-Veranstaltung: https://www.facebook.com/events/336709866746439/